Buy any complete AR-15 Rifle with Flip Up Sights and Soft Tactical Rifle Case
​Starting at $700 Out the Door!!!
​You pick an Upper and a Lower from in stock selection, if I run out I will make MORE....
​Deals on AR-15 Pistols too....
5.56 / 300BLK / 7.62x39

AR-15 Carbines Starting at $579
AR-15 Pistols Starting at $629
Stripped Lowers $79
Stripped Uppers $59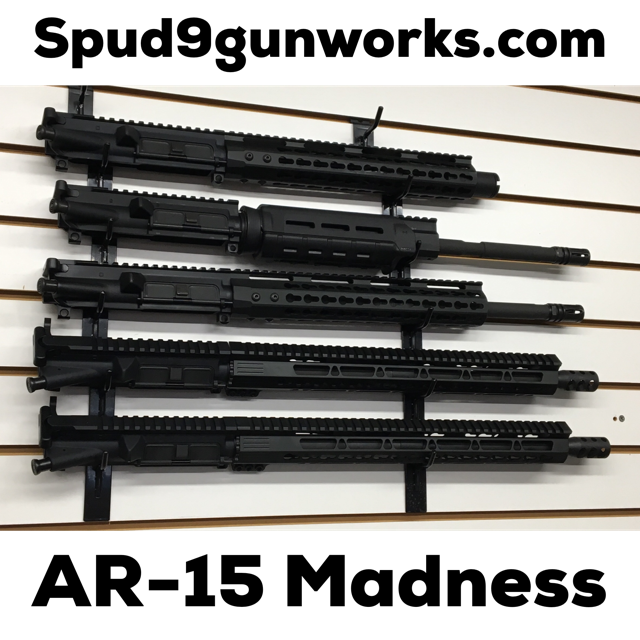 AR-15
Custom New Frontier AR-15

​New Frontier Poly lower AR-15 build. All parts in the lower are metal, no plastic. Anderson Upper with 12" keymod rail, A2 flash hider, standard pistol grip and M4 butt stock all done up in a custom Cerakote finish. Comes with one 30rd magazine. Light weight and ready to rock.

​$699.00

SOLD
Diamond Back DB-15 / AR-15 5.56/.223


New in box, DB-15 rifle in 5.56/.223. Comes with ATI light weight collapsible stock, 12" free float quad rail, standard pistol grip, A2 flash hider and one 30rd magazine. Also comes with a standard no name 3x9x40 scope with tactical rings. Doesn't look bad for a basic scope. All this can be yours for a very reasonable price...

​$569.99
​SOLD

Keltec SU22 Tactical

What we have here is a Keltec SU22 tactical rifle in 22lr. It is furnished with a collapsible stock, AFG and Grip Pod, UTG red dot sight, Magpul back up sights that coexist with the red dot. It also has a mini laser and breeching flash hider. We did this on up in what we like to call "Random Camo". It comes with three 25rd magazines. I shoot 2" groups at 50yds with this gun. It is very accurate and eats all the ammo I have put thru it. And the whole thing weighs just over 5lbs.

$529.00


We can get you into your AR15 pistol upppers or SBR uppers as well, just call or email for pricing..... with or without the BCG......


AR -15 Rifle

Locally built AR-15 rifles. Either Palmetto State Armory or Anderson Manufacturing lowers with M4 milspec butt stock. Uppers complete with standard contour barrel 1/7 1/8 or 1/9 twist and KeyMod forend, your choice 10", 12" 15" regular or slim. And comes with one 30rd magazine and A2 flash hider. Just add sights and your are ready to go.

Starting at - $579.99

Complete Lowers
$199.99
Complete Uppers
$399.99

Also available, Complete uppers in 7.62 x 39, 300BLK, Carbine or Pistol.




Stripped Uppers and Lowers


We are now carrying Anderson stripped uppers and lowers. Looking to build your own AR platform rifle, here are the building blocks.... Prices listed are for stripped units, we can also assemble them with parts kits or complete builds if you like.

​Uppers - $69.99
Lowers - $79.99
​Buy the pair and save.... $139.99


(Please call and confirm inventory as at this time supplies are low and hard to find)

ATI American Tactical Inc. SX2 12ga Shotgun



ATI American Tacical Inc. semi auto 12ga shotgun. Great home defense gun and great price for a semi auto. Hold 5+1, raised sights and comes with a soft case. This gun is lightly used...very lightly.

$299.00




Got a Shotgun or AR15 that you want to make KEWL!!! We do Cerakote and Duracoat.
​Or if you want we can build you the Shotgun or AR15 to your liking.... just ask....

Mossberg 500 Cruiser/Persuader



Mossberg 500 Persuader/Cruiser 12ga Shotgun in Palmetto Snake Skin Duracoat. Comes with full buttstock. 20" barrel, magazine holds 7+1. Great HD or Bush gun. If you buy the gun I will throw in four boxes of 12ga slugs to go with it for FREE....



$349.00
SOLD


Mossberg 500 Slugster


This was a nearly mint Mossberg 500 Slugster with a smooth barrel. It was sitting on the shelf so long I had to do something to it….. Kept the 24″ barrel, replaced the pump handle and stock with a tactical collapsible stock. Then I gave it a Duracoat snake skin camo pattern finish. It also comes with a shot shell holder for the left side and a vertical grip for the pump handle. But the gun and get 4 boxes of slugs for FREE.....

$449.00
SOLD


Maverick 88 12ga Pump Home Defense Shotgun

The ultimate home defense tool at a reasonable price. The Maverick 88 is a less expensive version of the Mossberg 500. The major difference is the cross bolt safety on the Maverick as compared to the thumb slide receiver safety on the Mossberg. We have in stock the 18.5" barrel that hold 5+1 or the 20" barrel that holds 7+1. Your choice same price.

$249.00

​We usually keep these in stock...